Are you thinking of wide open spaces?
Are you considering moving out of the urban area and wanting a more rural, country, or ranch lifestyle?
The flight to the suburbs is real and growing as the coronavirus still changes the way people live, some civil unrest, and the increasing 'work from home' movement develops from Wylie to Weatherford, Argyle to Aledo.

Now is the time to sell while the market remains at a peak to get the maximum value for your home. This will enable you to get your dream home today, and not "sometime down the road."
Contact me via email using the form below
The Three-Pronged Movement to Flee the Cities for Suburban Towns
Relocate in Texas is not just another real estate agency. We specialize in helping families and individuals through the daunting process of picking up their lives and resettling in the great state of Texas, and getting away from unknowns of failing states and other cities.
So… if you ARE considering a move to a more quiet, safe, and orderly life for you and your family, the Dallas / Fort Worth suburban and ranch country offer the existing homes or land to build your dream home on.
Use our MLS (Multiple Listing Service) search facility to look for your dream home, or let us know where and what you are looking for, and we will email you with only properties that match your specific criteria… from Wylie to Weatherford, Argyle to Aledo!
"Data from Realtor.com shows people are interested in moving, and there seems to be an increasing appeal in properties outside of the cities."

Fox News Report – Relocating to Texas
Some lingering restrictions remain to some extent due to coronavirus, plus the worry of civil unrest, have more homeowners or potential homebuyers looking for properties in the suburbs. That and the potential for more people to work remotely, combined with the desire for more space is stoking the move to suburban living.
"Cost of living in Texas is about 10% below the national average. Most movers provide the response for why people moving there is because they have secure jobs."
A. Simple – less taxes, less civil unrest, less traffic, better local government & education system.
If you are thinking of moving to the Dallas-Fort Worth area we are here to help.
People are moving out of Portland, Oregon, Chicago, Illinois, Seattle, Washington, Los Angeles, California, Minneapolis – St. Paul, Minnesota, New York, New York, and many other areas and relocating to the Dallas-Fort Worth area because of poorly run governments leaving some cities and towns defenseless.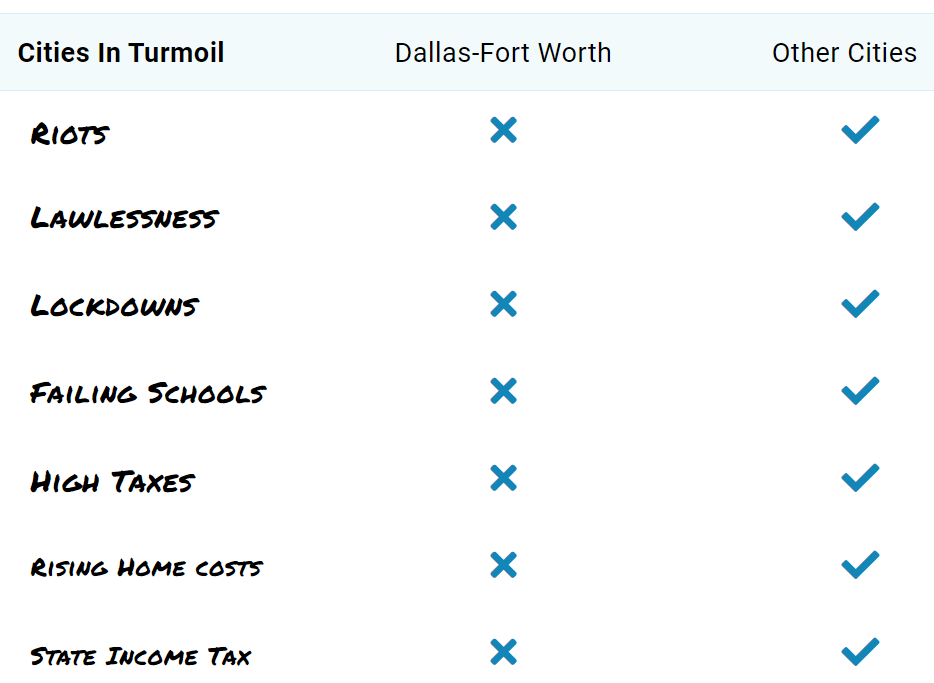 Family Home – Suburbs – Schools

Texas supports a community of like minded family and business that want more freedom and more control of family decisions that are being stripped away in many other states. Our Suburbs are open, and inviting. Our cost of living is 10% the national average.
Business
With one of the largest concentrations of corporate headquarters in the United States, the Dallas/Fort Worth area is a great place to live and work. We have some of the lowest unemployment rates in the country. DFW has a higher standard of living at a more affordable cost. Other cities just can't compete.
Let Relocate in Texas be your guide to the 20 plus suburbs in the greater Dallas and Fort Worth area, including information about area schools. Explore our website, home listings, or just contact us. We're eager to welcome you home to Texas!
Friendly people, lower taxes, good schools, low unemployment, low cost of living, and these are just a few of the great reasons… [Read More]
The Dallas/Fort Worth Metroplex offers everything for people looking to move to their dream home with recreation, sports, golf… [Read More]
Why buy home when you can lease or rent?  There are advantages to owning your own home including…[Read More]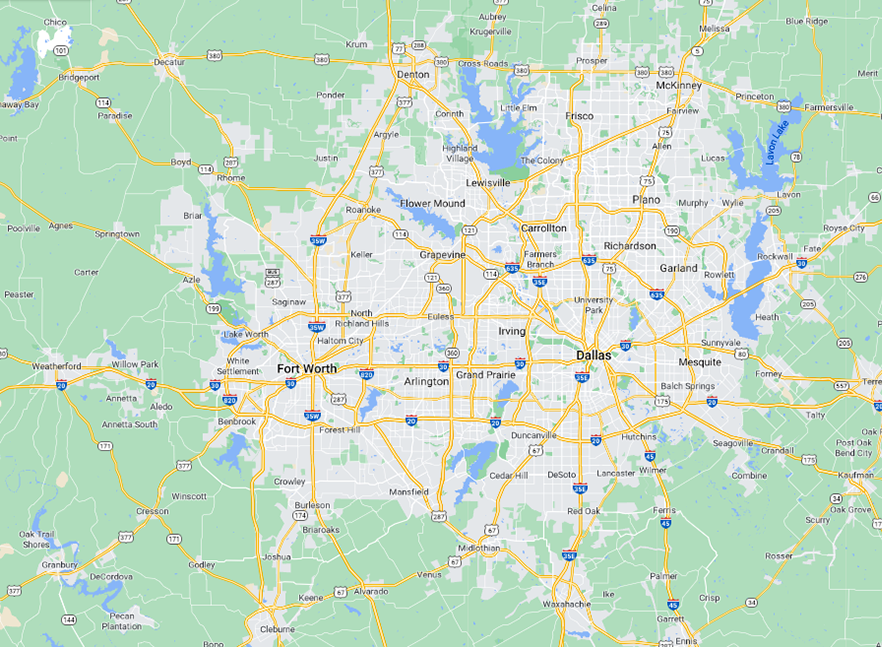 Suburban Towns in the North Texas - Dallas / Fort Worth area that may be of interest include:
Dallas Area Suburban Towns
Fort Worth / MidCities Suburban Towns
For more information on these areas and listings of available homes, contact us with an email address and/or click on the MLS link below: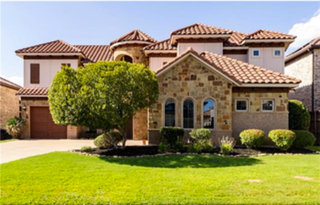 Featured Listing
This gorgeous custom home, Mediterranean-inspired, with red-tile roof offers 4 bedrooms, study and second level game and media. Amenities include iron front door, wood floors, French doors into study and walk-out balcony, iron spindles on stairs, and custom built-ins.